Bring your Jeep to one of our 6 locations and see why we're #1 for Jeep service and repairs.
Why choose Aspen Auto Clinic for Jeeprepair in Colorado Springs, Monument & Centennial?
There's no better place to have your Jeep service or repairs done than Aspen Auto Clinic. We have established relationships with direct importers who provide us with original parts at competitive prices. We invest in dealership level diagnostic equipment, information systems and the latest technology to best take care of anything your Jeep may need.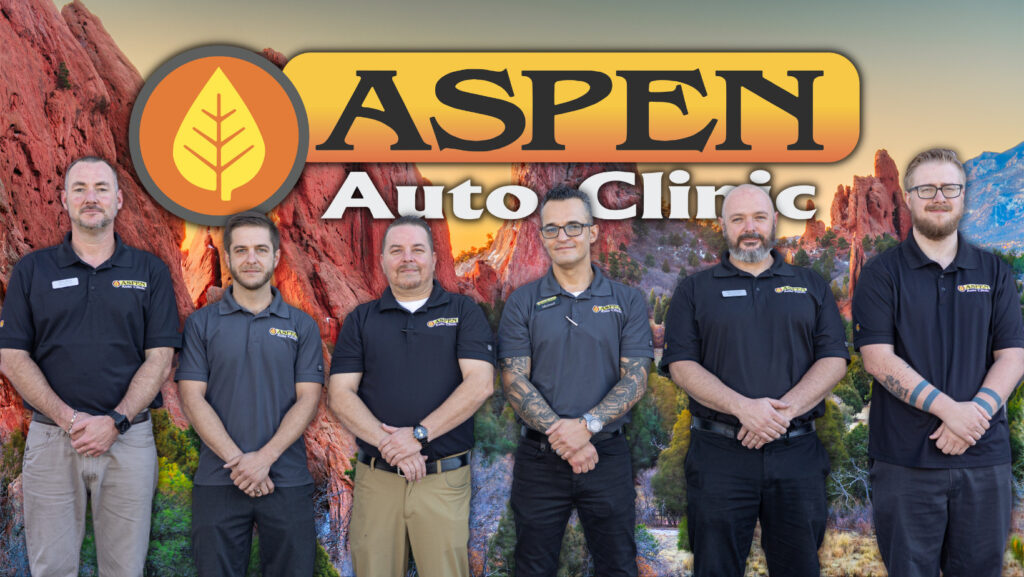 Your Jeep Dealership Alternative
Aspen Auto Clinic offers better service and prices than your typical Jeep dealership. We only hire the best of ASE Certified Technicians. We have preferred relationships with import vendors to assure that we're putting only the best parts in your Jeep.
Limited Lifetime Warranty On Jeep Repairs
We offer Industry Leading warranties  on parts and repairs for your Jeep to assure that any issues never become your problem. Click below to see whats covered by our Lifetime Warranty.
EXPERT JEEP REPAIR SERVICE IN COLORADO SPRINGS, MONUMENT & CENTENNIAL
You can't park at any ski lodge, hiking trial, lake, or a great restaurant without seeing a Jeep in the parking lot.  Jeeps seem to be the un-official vehicle of the Colorado Rocky Mountains!  Of course this is for good cause, what better vehicle to get us where we want to go, on-road or off-road, rain or shine, snow or mud.  Owning and driving a Jeep is not just owning a vehicle, it is a lifestyle.  It speaks of a love for the road and the adventures that waiting to be explored! To ensure that adventures continue for years to come, you want Jeep service that keeps your car on the trail for years to come.
Jeeps went into production in 1941 and they are the oldest mass produced 4×4 vehicle.  They are an unsung hero of World War II as they transported our soldiers around during battle, they were used as ambulances, troop transport, supply transport, and a general workhorse on and off the battlefield.  They are truly a part of American history in a time that we all know our men and women changed the course of the world we live in and fought for the freedoms you and I enjoy. To keep that going, premiere Jeep repair isn't just recommended, but required.
For top-tier Jeep service in Colorado Springs & Denver, Aspen Auto Clinic is here to provide high-quality service to both you and your vehicle. Aspen Auto Clinic is truly a family business. It is privately owned by Greg Bunch and with the help of his wife Elaina they run six successful auto repair shops that service the Colorado Springs, Monument, Black Forest, Falcon, Littleton, Englewood, Centennial, Parker areas.  We believe that supporting our local community is the only way to truly be successful.  Jeep owners like you have been a huge part of Aspen Auto Clinic over the last 15 years.  Aspen has been known a dealership alternative for Jeep service since they opened in 2001.
The Aspen Auto Clinic family shares your passion for the outdoors and everything living in Colorado brings to our lives.  Our mission is that when you leave our shop, you are leaving in a more safe and reliable Jeep than when you first brought it in. We want your adventure to not include a break down! Our team of ASE certified trained technicians are truly the best of the best in the automotive industry. There are lots of people who claim to be "mechanics" but very few qualify to perform Jeep repair for Aspen Auto Clinic.That is why we stand behind our Jeep service with our legendary 3 year/36,000 mile warranty.  This is three time longer that even the dealer will offer you!  We believe that by using the best parts installed by the best technicians is the only way to do business.Whether you drive a Jeep Wrangler, Cherokee, Liberty, Patriot, or a classic Wagoneer your only choice for quality, integrity, and value is to let Aspen Auto Clinic be your new partner in Jeep service, repair, and maintenance.
Come experience the Aspen difference today.  You can choose to wait in our comfortable client lounge and enjoy complimentary Wi-Fi, snacks, soda's or coffee or let one of our professional shuttle drivers take you where you need to go.  We also have loaner vehicles and low cost rental vehicles should you need alternate transportation.  At Aspen Auto Clinic, you will not just be our clients, you will be part of a family. Give us a call today at 7194153121.
BETTER THAN JEEP DEALERSHIP SERVICE
Aspen Auto Clinic has been the logical choice for your Jeep service. We have better than dealership service and prices. You will not find a better place to service your Jeep. Aspen Auto Clinic has Factory trained ASE certified technicians to service and repair your vehicle correctly the first time, every time. Aspen Auto Clinic is set apart from many other shops in town do to our relationship with direct importers that provide us with Original Equipment parts at competitive prices. We also invest in dealership level diagnostic equipment and information systems. Aspen Auto Clinic has seasoned Import experts that really know your vehicle and are willing to show you exactly what is going on with your vehicle. We are the experts for auto repair in Colorado Springs, Monument & Centennial.
We have built our reputation as Colorado's most trusted name Jeep service and repair by being transparent, and being willing to take the time to educate our clients. Trust all of your Jeep repair needs to Aspen Auto Clinic.
THE LONGEST WARRANTIES IN THE BUSINESS
Aspen Auto Clinic stands behind our Jeep parts service and  repairs with a Lifetime Warranty on most parts AND labor that is unmatched. Aspen Auto Clinic is the logical choice for servicing your vehicle, call us today!
JEEP VEHICLE FACTS
The original Jeep was a light 4-wheel drive vehicle used by the U.S. Army and its allies during World War II and afterwards. An average of 145 Jeeps were supplied to every infantry regiment. They were used for every conceivable purpose, from laying cable to serving as field ambulances. With special wheels, they could even be made to run on railroad tracks. American Motors owned the brand at first, but Chrysler took possession of it when it bought out AMC. It is now the property of Chrysler Group LLC, which holds not only the name's trademark, but the Jeep's seven-slotted vertical front grille, which evolved from the original nine-slot grille used on the models in service during World War II. Jeep has long emphasized the brand's off-road capacity. The Jeep Wrangler is one of only a handful of four-wheel drive vehicles that have solid front and rear axles, noted for their durability.